Thai 101 Bistro
448 Myrtle Ave, Brooklyn, NY 11205
Order now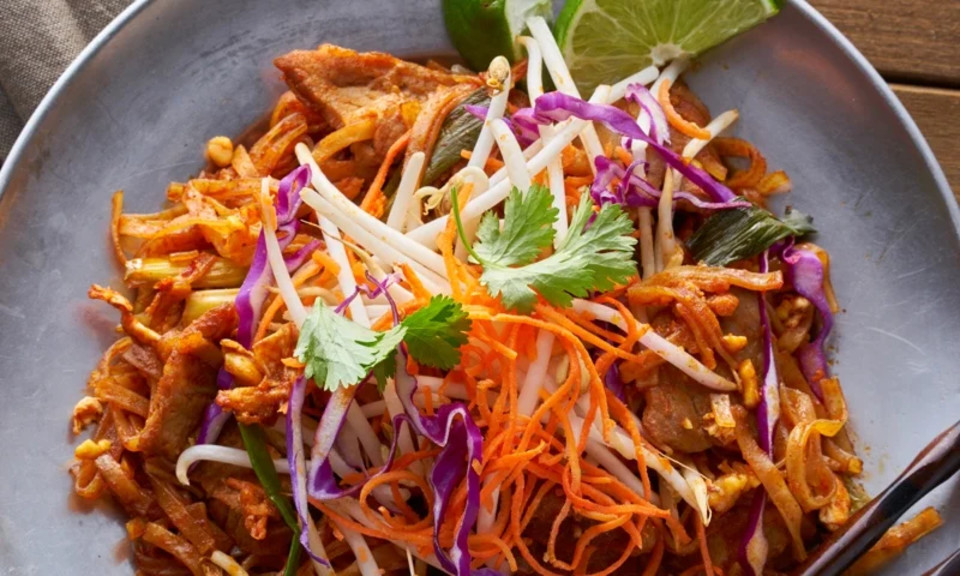 Cassandra
I LOVE Thai 101!!!!
Im only a visitor to New York, but in the last month, Ive ordered from than at least 4 times!!! In fact, todays my last day, and I just orders The Basil palate! I love it. Honestly, imma a rice type of girl, so I wished they gave more rice, but Im happy that they give a small pint cause I need to eat smaller portions. Ive also ordered the Pad Ke Mow, loooove it! Pretty spicy, very flavorful. Order from them!
Erik
Always so good!
I eat a lot of Thai food and this is just truly great. I order multiple times a week. I have not had an issue with late deliveries (almost always early, but I do live pretty close) never an issue with a wrong order, or something I was not expecting. But always some of the best Thai I've ever had. The Tom Yum broth is incredible.
Vlad
Shockingly delicious Thai food. I've had Thai in dozens of places around the city, most very reputable and never expected to have a random place near my house to be the best
Tyasia
The food was good for the most part and the staff is always polite. It's right near my school so it's convenient. I've had better Thai food though.
David
We order from here a lot. Every time the food is hot, well prepared and arrives in a reasonable delivery time. The masama curry rocks!
Leah
I absolutely loooove this place! The waitresses are very polite. I always order from here almost if not every week and I am NEVER disappointed. I receive the food fast and hot. If I ever want Thai food I always crave their food first, it taste GREAT. Ordering on Seamless makes the experience even better. They give a lot of food and for a reasonable price compared to Manhattan. It is a definite reliable option for Thai food. Even the dine-in experience is superb. Try it and you will see the difference. If there was a 6th star I'd give them that too.
Ariana
I got the spicy basil noodles and at first I was a little sad that they weren't the big wide ride noodles that restaurants typically use for this dish- they were more like angel hair rice noodles--but it ended up being bomb. Actually even better than other restaurants because the dish wasn't too oily and saucy.
Haydenn
I always get the chicken pineapple fried rice. The dish is very delicious and the delivery is almost always prompt. I am very happy with the service I get from this restaurant and strongly recommend this restaurant above all other Thai food restaurants in the neighborhood.
Lisa
this place is out of this world delicious. only feedback is the containers used for my spare ribs weren't appropriately sealed and it leaked all the over the bag, minor bummer. i will be re ordering though!!!
Daniel
I like this spot. The food is good, consistent and they deliver quick. They always get the order right and it's surprisingly good for Thai in Brooklyn. (as opposed to Queens or outright Thailand)
About us
Asian, Dinner, Lunch Specials, Noodles, Salads, Thai
Today

Delivery: 11:30 AM - 10:30 PM

Takeout: 11:30 AM - 10:30 PM

Delivery

Monday:

11:30 AM - 10:30 PM

Tuesday:

11:30 AM - 10:30 PM

Wednesday:

11:30 AM - 10:30 PM

Thursday:

11:30 AM - 10:30 PM

Friday:

11:30 AM - 10:30 PM

Saturday:

12:00 PM - 10:30 PM

Sunday:

12:00 PM - 10:30 PM

Takeout

Monday:

11:30 AM - 10:30 PM

Tuesday:

11:30 AM - 10:30 PM

Wednesday:

11:30 AM - 10:30 PM

Thursday:

11:30 AM - 10:30 PM

Friday:

11:30 AM - 10:30 PM

Saturday:

12:00 PM - 10:30 PM

Sunday:

12:00 PM - 10:30 PM
Thai 11 Bistro is well known in Clinton Hill for offering tasty and unique Thai food. Thai 11 Bistro is open for lunch and dinner so that no matter what time youre craving a delicious meal, they can always satisfy your hunger. The Chicken Pad Thai, Green Curry Fried Rice, and Ginger Salmon are all prepared quickly and delivered to you right away. Thai 11 Bistro uses only the freshest ingredients around, ensuring that every dish is of the highest possible quality. Not sure what you're in the mood for? Try The Lemongrass Chicken, It's the perfect bite to satisfy your hunger any time of the day. Order online or stop by Thai 11 Bistro today!